Moparmecka med Mårten del 4
---
Det har gått framåt med skärmbytet på den blå Roadrunnern, här är all
dålig/krockad plåt bortkapad/utbytt.




De här två plåtarna gick inte så bra att rikta så det blev utbyte istället.
Tyvärr så gick de inte att hitta NOS så det fick bli repro. Dessa verkar vara
tillverkade av Kineser som aldrig har sett en Plymiuth RR så passformen lämnar
en del att önska men jag tror Mårten löser detta.




Det fanns lite kondensrost i trösken.




Den nya ytterskärmen på plats, nu återstår lite mer inpasning sedan
svetsning, spackling och lack i B5, Bright Blue Metallic.


---
---
---
---
Iowa's US 30, filmed in 1959
---
YOU WILL LOVE this video of central Iowa's US 30, filmed in 1959 to show congestion and the need for road improvements. Highway Relocations was created by the Iowa State Highway Commission (ISHC), now IDOT, to show the downside of gas stations, rest stops, and the skinny two-lanes they populate. Filming started just east of State Center at the junction of Iowa 64 (now Iowa 330) and US 30 (the Lincoln Highway) and continued west along US 30 through State Center, Colo, Nevada, and Ames, ending just west of Boone. The film is 16 minutes long and covers 55 miles.
Amazingly, most of it was filmed by
a camerman perched atop a ladder
connected to a car and extending
approximately 22 feet in the air above
the roadway! The camera, on a
1958 Ford Ranch Wagon, followed and
filmed a 1958 Plymouth Fury.
"The unidentified cameraman had the
precarious task of trying to hold the
camera steady and stay on the
ladder, notably without a safety
harness or other protective device."

Filmen går att hitta här: (bilderna och bildtexterna kopierade från länken nedan)


http://brianbutko.wordpress.com/2010/09/16/amazing-1959-film-of-iowas-us-30/
---
---
---
---
1954 Chevrolet år 1957, 1971 och 2007.
---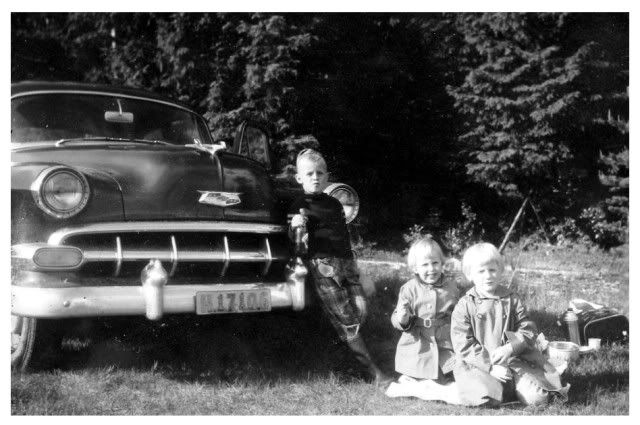 Stort tack till Bodil, första ägarens dotter, som skickat bilden på undertecknads
blå Cheva -54:a från år 1957 !
---
Såna här bilder från tiden det begav sig tycker jag verkligen att det är jätteroligt
om man får tag i, detta är den gröna Cheva -54:an år 1971 med den dåvarande
ägaren Ain.
---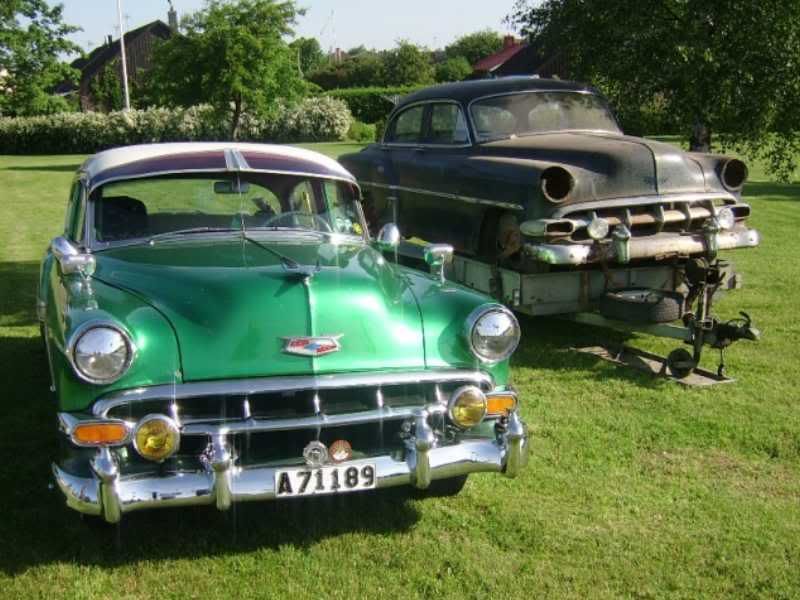 Samma bilar år 2007 vid Skänninge motormässa när vi hade träff med Chevaklubben SCA49-54.


www.sca49-54.se
---
---
---
---
1959 Cadillac Säsongspremiär
---
I dag luftade Ulf Ontoft Cadillacen för första gången denna säsong, gott.
---


En 1959 Cadillacbild av lite äldre datum: från staden Douglas i Wyoming 1959.
---
---
---
---
1957 Ford, en ägare sedan 1964 !
---
---
---
---
---
Amazonklubbens Årsmöte Motala 2011-03-05
---
Mårtens Myshörna
---


Det går framåt med renoveringen av den Hemioranga Plymouthen, detta är
grejjer som just kommit tillbaka från lackering.


---
---
---
---